Out of control. A talk with Frédéric Mugnier.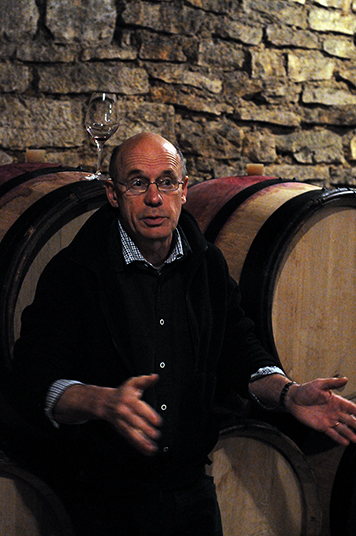 Now I lay me down to drink: Let's begin with your professional journey. You arrived into winemaking from a completely different profession. Why did you one day decide to leave a successful career and enter the rather insecure world of wine?
Frédéric Mugnier: Well, I was educated as an engineer. Before I moved here, I worked as a project engineer in the offshore industry in the Middle East. My family were vineyard owners, but at that time, nobody was really taking care of the vineyards. At one point I decided that is was important to see for myself what was going on at the domaine. But it was not because I had a special passion, or even interest, for wine. Living five years in the middle east had given me very little opportunity to educate my palate.
NILMDTD: So what was really the turning point for you?
FM: Honestly, it was quite a pragmatic decision. I got a leave from my company, I came here, and I just tried. I gradually discovered the world of wine. I met with neighbors and growers, I learned a little bit about wine at the school i Beaune. After a while, when I already had my feet in it, I realized how fascinating the world of wine could be. I practically discovered wine by making it.
NILMDTD: So you were entering the wine scene as an outsider who was not shaped or colored by any predefined system or culture. How do you think this has influenced your work?
FM: It was actually very important, and very useful. It meant I could enter the wine culture with both an open mind and the critical view of an outsider. Also, starting from scratch is a quite comfortable starting position. Nobody knew Domaine Mugnier at that time, there were no bottles with my name on it, no expectations to me as a new winemaker. This gave me a lot of room for experimenting, and the first years I went in many different directions. Today, I look back at those years as a precious time. Now I am older and more conscious on what can go wrong. I have customers who expect something relatively precise from my wines, and I feel a responsibility to fulfill those expectations. I am walking on eggshells now.
NILMDTD: When did you feel you were on the right track with your wines?
FM: It took me a long time to find out what kind of wine I wanted to make. I knew I had a precious vineyard, and therefore I wanted to make the best wine in the world — a ridiculous and pretentious idea. I tried lots of different things, for example I did a lot of pigeage [pressing down the cap of skins] in the beginning. I could even get up three times a night to do this. It was crazy! Now I've reached a point where my wines have a distinct style. I still want to keep on improving, but I do it slowly and softly.
NILMDTD: How would you describe your philosophy of wine-making today?
FM: In my opinion, what makes a wine really interesting, is what cannot be controlled. I am looking for a spontaneous expression of nature, without my interference. The trainees which come to work during the harvest and fermentation are always surprised of how little we work the wine. We do minimal interventions. It took me a long time to understand this approach. Actually, it seems that every time I have done progress in my wine-making, it is by not doing something I used to do. Not doing more, but doing less.
However, the work in the vineyard is a completely different case. Growing good grapes is not something that comes naturally — it takes an incredible amount of work. The natural tendency of the vines is not to produce the kind of grapes we are looking for. We work our vines like Bonzais — the contrary of something natural.  Just imagine the handwork needed in this 14 hectare domaine. We have 140 000 individual vines, and it is necessary to pass trough each row and touch the vine with your hand approximately 25 times every year.
NILMDTD: I remember talking to Francois Millet of Comte Georges de Vogüé on the differences in how they worked their different climats. He stated that in the case of Le Musigny, he could almost just sit back and watch the grapes develop. However, in the case of the Bonnes Mares, what he called a slight «provocation» was necessary.
FM: Well, that's the definition of the Grand Cru. Grand Cru vineyards are the most easy to work. It resists decease, rain and rot. I agree with the idea that the greater the vineyard, the easier the work for the winemaker. I wouldn't be able to make vin de table.
NILMDTD: What I find striking in your wines, is the incredible level of transparency and precision, both in terms of the fruit and structure. Is this something that you are consistently searching to obtain?
FM: I am not searching for anything preconceived. I want to make wines that can not be made in any other place. For example, I decided initially that I would avoid the use of much new oak. 20 years ago, it seemed impossible to make a Grand Cru without using 100%, even 200% new oak. It was as if oak was the secret for making great burgundy wine, it was ridiculous. I own some of the most expensive pieces of agricultural land in the world, something that is only here, and nowhere else. New oak would hide this uniqueness. I want to find the expression of nature, of the terroir and the climat in my wines. It is not something I have designed. I do not design my wines. I really don't have a preconceived idea of how it should be.
NILMDTD: Picasso once said, «I am not searching, I am just finding.»
FM: Yes, that is a good way to put it. I am not searching, I am just facilitating what comes naturally. My job is to provide the proper environment for the transformation into wine to take place. That's oenology. That's wine-making.
*
Follow us on Facebook!
https://www.facebook.com/nowilaymedowntodrink1